They Live Again
CHAPIN BEGINNINGS IN AMERICA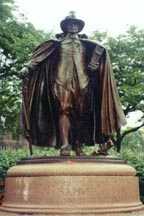 The Puritan
Deacon Samuel Chapin
by Augustus Saint-Gaudens
in Springfield, Massachusetts
For more information on Augustus Saint-Gaudens and his work (which includes the Shaw Memorial as seen in the movie "Glory" ) please go to here.

"The Puritan"
Working model by
Augustus Saint Gaudens, owned by the Carnegie Museum of Art, Oakland, Pittsburgh, PA
Photo by Jinny © April 9, 2000
For photo contact Jinny
The family of Chapin, although perhaps of French origin, flourished for centuries in England before the time of Deacon Samuel Chapin who founded the American Chapin lineage.
According to Howard Chapin as found in "English Origins of New England Families, Volume 1", pages 446-452, "it seems probable that the Chapins of the two parishes of Paignton and Berry Pomeroy, which were in the hundred of Haytor, county Devon, were descended from, or at least related to, the Chapin family of the neighboring hundred of Coleridge. In 1524 Robert Chopyn and Christopher Chopyn were at Cornworthy in the hundred of Coleridge, and in 1525 Henry Chopyn and Thomas Chopyn were at Harberton in the same hundred. At Totnes, also in the hundred of Coleridge, the parish in which Roger Chapyn, who was probably the grandfather of Deacon Samuel Chapin, lived, there was a Stephen Chapin as early as 1489, a fact which seems to indicate that the ancestors of Samuel Chapin were living at Totnes as early as the fifteenth century; and the appearance of the Christian name Stephen in the family at that date seems to point to a connection between the Chapin families of Totnes and Cornworthy, for a Stephen Chapin was born at Cornworthy in 1570 and moved to Dartmouth. Thomas and Christian also were names that were common in both families. The Chapin family is found in Coleridge as early as 1333, when Petro Chapyn was taxed and six years earlier, in 1327, a Nicholas Chopyn was taxed at the manor of Sheftbeare in the hundred of Haytor - the first appearance (so far as is known) of the surname in Devonshire".
Roger Chapin was born 1535 in Totnes, Devonshire, England, and died December 09, 1590 in Constantine, Falmouth, Cornwall, England. He married Urdde about 1559. She was born around 1540 in England.
One of their son was John Chapin who was born June 30, 1560 in Totnes, Devonshire, England, and died June 3, 1600 in Paignton, Devonshire, England. There is a possibility, according to "Colonial Families of the United States" that he was lost at sea. He married Phillipa Easton on September 14, 1590 in Paignton, Devonshire, England. She was born approximately 1569 in Paignton, Devonshire, England.
Son of John Chapin, Deacon Samuel Chapin was born on October 8, 1598 in Paignton, Devonshire, England and died November 11, 1675 in Springfield, Hampden County, Massachusetts. He married Cicely Penny on February 09, 1622/23 in Paignton, Devonshire, England.
They brought their children to the New World in 1638 and settled in Roxbury, Massachusetts and later moved to Springfield where he was one of the founding members of the community. Deacon Samuel Chapin was a forceful and dynamic man. He served his town in many capacities including Selectman, Auditor and Magistrate and he was Deacon of the church for some 25 years.
Next to the Public Library in Springfield there is a bronze statue, "The Puritan", placed there on November 24, 1887 which honors him. It is the sculptor's idea of how such a man as Deacon Chapin, a man of his moral standing and spiritual qualities ought to have looked.
A chronology of Samuel Chapin's activities:
1638: Samuel CHAPIN and wife Cicely were at Roxbury. Came to Springfield, MA from Roxbury, MA.
1641, 2 Jun: Samuel CHAPIN of Springfield, MA, admitted Freeman.
1643: Town officer. He took a prominent part in all the affairs of the town, both religious and civil.
1648: A member of the Board of Selectmen on which Benjamin COOLEY first served. A member of the first Board of Selectmen and served 9 consecutive years.
1649: Deacon.
1651: Commissioner.
1652: John PYNCHON, Elizur HOLYOKE and Samuel CHAPIN were appointed Commissioners, or Magistrates, to hear and determine all cases and offences, both civil and criminal, "that reach not to life, limbe and banishment."
1653: The General Court appointed him and John PYNCHON to lay out Northampton and its bounds, and they made purchase of the lands from the Indians.
1664: He petitioned the General Court for some land for services done.
1669: The General Court granted him 200 acres as laid out 4 miles from Mendon, bounded as in the platt which is on file, provided it did not exceed 200 acres and that it did not take in any of the meadows now granted to Mendon.
1674, 4 Mar (1st mo.): Samuel CHAPIN wrote his will. Bequeathed to wife, son Henry, grandson Thomas GILBERT.
1676, 24 Mar: Will probated. Son Japhet CHAPIN with his wife Abilene deposed.
His grandson, Henry Gilbert was a soldier and was sent to command a squad of men, among whom was his brother Thomas, who was a builder or carpenter, to build a fort or blockhouse at Quabaug (Brookfield), starting September 16, 1688. It was called Gilbert's Fort, perhaps because he took a house lot and lived adjoining it on the west, on the south side of the road. The fort was on the (later) schoolhouse lot in Brookfield, at the intersection of North Main and Maple Streets, of convenient size, having barracks for soldiers and their families and was surrounded by a stockade. It was a defense against Indian attacks from the northward, northwestward and northeastward. In 1688 Henry Gilbert commanded a scouting troop sent by Pynchon during King Phillip's War. He built "Gilbert's Fort" a fort of considerable size with barracks for soldiers and families surrounded by a stockade.
The Chapin line continued to lead New England for generations and will continued to be researched.
Compiled by Richard N. Fox
They Live Again
Email: foxes@gci.net





Web design by Richard Fox
Copyright 2001, All Rights Reserved