THORNTON
"Branches to Westward"
by
Richard Thornton Fox
On 15 January 1982, Ruby Ann Thornton Rudisill published an article titled "A Little South of Lone Oak - The Early Thorntons of Hunt and Rains Counties". She had been developing her story since 1961 by contacting surviving family members, and continued to do this until the date of publication. She also did extensive records research in Texas and Missouri. Ruby sent a copy of her work to my uncle, C. C. ("Son") Thornton in Liberty, Texas, who let me make a copy. I was intrigued with the fact that the early Thorntons had come from Virginia, where I am located. So, I determined to do some research myself and complete the family tree for our own particular line, following a guiding principle that I would only try to expand on Ruby's work - not to supercede it.
In 1984, my cousin Ruben Allison and wife Beth, in Liberty, organized a reunion of Son's nieces and nephews for the purpose of helping Son celebrate his 80th birthday. This event was such a success it has tended to grow into a yearly family reunion even though Son died in 1987. At the reunions old tales are told, pictures displayed, offspring lectured on how it used to be, etc. It has become apparent we need a written family history. I am attempting to help satisfy this need.
My narrative is only about one-half complete. Presently I am hung up on a generation gap in that I do not yet know the parentage of James Thornton (born in Virginia, 1802). That I have searched diligently to find this information would be an understatement, but the effort continues. It did seem logical to put down in writing what has been found to date, and that is the purpose of this article.
The reader must understand I am only setting forth a draft and expect to expand/change and otherwise correct this paper as time goes by. I have tried to be accurate, but mistakes may be present. Anyone who brings an error or omission to my attention will be making a valuable contribution to the final product.
Raymond Thornton Fox
Portsmouth, Virginia
June, 1990
"Branches To Westward"
The earliest documentary evidence found to date on this line shows James Thornton executing a marriage bond for union with Martha C. Royster, in Henry County, Virginia. This bond was made to John Tyler, Governor of Virginia. The document was witnessed by William Hughes (of whom nothing else is known). It was dated 30 August 1826 and pledged $150. At the bottom of the bond there is a handwritten entry by Elizabeth Royster giving her consent to the marriage of her daughter. The date of the consent is also 30 August 1826. This entry by Elizabeth Royster leads to two conclusions:
Elizabeth Royster must have been a widow at the time since consent to the marriage would normally have been given by the father, if living, or Martha C. must have been under 21 for consent to have been required.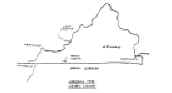 Click for larger image
A marriage bond in those days was generally required before a license to marry was granted. It had little legal effect, and no money passed hands if the marriage was consummated. It was really just a formal statement that there was no legal impediment to the proposed wedding (e.g. a previous undissolved marriage). It was similar to Banns of Marriage published by the Church. In fact, a bond was not required if Banns had been published. If the marriage did not take place, the bond money did not go to the intended or her family, but would be a fine to the State, if such was indicated.
On 31 August 1826, the marriage took place in Henry County and was solemnized by one Arnold Walker. Arnold Walker was a Minister in the Primitive Baptist Church.
Elizabeth Royster, mother of the bride, was shown in the 1820 Census in Henry County as head of a household made up as follows:
Female born 1775 <
Female born 1794-1804
Female born 1804-1810
(2) Females born 1810-1820
Also in the household were 9 slaves and 1 free black person.
From later Census reports we know the bride, Martha C. Royster, was born between 1812 and 1814. Thus she would have been one of the two youngest shown above. It is clear that Martha married James when she was at the tender age of 12 to 14, remarkably young in the present day, but perhaps not so unusual in that era.
The next documented event for James and Martha is the 1830 Census of Henry County. James' household was listed as follows (Census reports did not give names other than heads of households until 1850):
Male born 1800-1810 (James)
Male born 1815-1820 (?)
Female born 1810-1815 (Martha)
(2) Females born 1825-1830 (Paulin (sic], Katherine T.)
Included in the household were 5 slaves. Names in parenthesis are my suppositions for given names as explained later. It is known from later Census reports in Missouri that James was born in 1802, so he would have been 24 when he and Martha were married. We have already noted Martha could have been at most 14 at the marriage. It can therefore be presumed well enough the two girl babies were children of the child bride, but the male 10-15 years old is a mystery. Two possibilities come quickly to mind:
He could have been an indentured servant or hired laborer since such were included in Census reports, or, he might have been a younger member of the Thornton or Royster families living with the couple -- not at all an uncommon situation in those days.
The 1830 Census showed for Elizabeth Royster a household of:
Female born 1790-1800
Female born 1750-1760 and 7 slaves.
While only a guess, it is likely the elder person was Elizabeth's mother. Elizabeth Royster did not show in the 1840 Census for Henry County. She had either moved, died, or was living with someone who would be listed as head of household.
In the early 1830s, James and family moved to central Missouri. Not known with any certainty is how they traveled for this ordeal, whether by foot, wagon, or boat, more than a century and a half ago. We neither know the route they took, who went with them or why they moved. Libraries are filled with books describing such events much better than I could attempt. Suffice to say, it would have been an odyssey we can scarcely imagine.
The U.S. had made the Louisiana Purchase in 1803 and the Purchase was divided into the Territory of Orleans and the District of Louisiana. In 1805, the District of Louisiana became a territory, and shortly thereafter was divided again and part of the division named the Territory of Missouri. In 1821, Missouri was admitted to the Union as a State, with generally the same boundaries as today.
The St. Louis abstracts of U.S. Land Sales in Missouri show James Thornton as purchasing the following plot of land: W 1/2 of the NE 1/4 of Section 8, township 42, Range 8W. This was 80 acres in Gasconade County, Missouri. This purchase was made in 1837. No value is given in the abstracts.
There were no Thorntons listed in the 1830 Census for Gasconade County (Reader's note: We have already indicated James was living in Henry County, Virginia, in 1830. But, it was necessary to check Gasconade for their presence or absence in 1830 to help substantiate previous findings). We do have information from later reports that James and Martha's son, Joseph, was born in Missouri in about 1836. These things all put together give us a good feel for the earliest and latest dates for the emigration from Virginia being 1831-1836.
The 1840 Census of Gasconade County shows James and his household as follows:
Male born 1800-1810 (James)
Female born 1810-1820 (Martha)
Male born 1810-1820 (?)
(2) Females born 1825-1830 (Paulin, Katherine T.)
Male born 1830-1835 (??)
(2) Males born 1835-1840-(Joseph, James)
Female born 1835-1840 (?) and 5 slaves.
Four persons not specifically named were listed as being employed in agriculture. One was listed as a white person over 20 years of age who cannot read or write", but such person was not pointed out. Names in parenthesis are, again, suppositions. The mystery man born in 1815-1820 who showed in Henry County, Virginia is still in the household as well as a new unknown male born 1830-1835. I have not yet been able to identify the girl born 1835-1840.
A possible explanation exists for the identity of the male born between 1815-1820 who showed in James' household in both 1830 in Virginia and 1840 in Missouri. In the Will records of Osage County in Missouri is the following entry, "Joseph Royster died intestate, Administrator James Thornton, 29 January 1853". One could easily speculate that Joseph Royster was related in some way to Martha Royster Thornton, had lived with the Thorntons in Virginia and emigrated with them to Missouri. If such was the case, it would be quite natural for James to be named administrator of Joseph Royster's estate. Joseph did not show in James' household in 1850 (Joseph would be an adult then) , nor is he shown in the Osage County Census for 1850. I think, personally, this speculation is valid.
At this state of the narrative, I am going to wander off into rank speculation and surmise. If the reasoning seems tortuous, then so be it.
Osage County Missouri, was formed from Gasconade County in 1841. The principal town and county seat of Osage County is Linn, Missouri. Marriage Book "A" of Osage County covers the period 1841-1861 and is located at the Recorder's Office in Linn. The following information is contained in Marriage Book "A":
· Samuel Hibler married Paulin (sic] Thornton on 15 June 1843
· Fielden F. Hibler married Katherine T. Thornton on 24 December 1848
I speculate that Paulin and Katherine T. Thornton were the two girls in James Thornton's household shown as. being born 1825 - 1830 in the 1830 Henry County, Virginia -and the 1840 Gasconade County, Missouri numerations. Ages at marriage would have been logical being 16 to 21 years. The youngest girl in the 1840 Census could only have been 13 in 1848 and might have been as young as 8 (I have no further information about her). There were no girl children shown in James Thornton's household in 1850, so the girls were living elsewhere or deceased in 1850.
While James Thornton was principally a farmer, at one time he was operator of a ferry across the Gasconade River in Osage County. The ferry crossed the river near the present day village of Rich Fountain, about 7 miles south of Linn, Missouri. This is where the land he bought in 1837 is located. It appears he operated the ferry after it was established and operated by one Robert and Sarah Rollins in about 1835. Another operator of this ferry was a Ruben Wilson, who will be mentioned later.
While perhaps out of context, I am now going to remark a little about early Census taking. The first Census was ordered by the U.S. Government for 1790 and each 10 years thereafter. Unfortunately, Census reports for Virginia for the years 1790, 1800 and 1810 were either totally or partially destroyed when the British burned Washington during the War of 1812. Efforts have been made to develop II substitute" Census reports for the years and counties for which reports are missing (including Henry County and surrounding areas), and while they are very helpful, such substitutes are no guarantee that a person did not live in a given place at a given time. The lack of Census reports contributes to the problem of determining who James Thornton's parents were. Also, the careful reader must give thought to who it was that actually conducted the Census and how he went about it. (I do not think it necessary to use inclusive pronouns here since the fairer sex did not conduct early enumerations). While, obviously, the enumerator had to be able to write, the cursive style of the early 19th century is guaranteed to send a modern day researcher to an optician and/or a 6-pack. While some of the script is beautifully done, legibility and spelling is often suspect.
This is not surprising since large numbers of the citizens themselves could neither read nor write, and spelling of surnames was often phoneticized, or simply not heard correctly and recorded in error. As a matter of fact, librarians and genealogists have developed a system called "Soundex" to aid in searching old papers for names which were, perhaps, recorded incorrectly. This was helpful to me when a person noted Thornton was listed incorrectly as Horton on an 1880 Texas Census. The Soundex code for Thornton is T653. (This knowledge and $1.59 will buy a Big Mac). But there was a very helpful aspect of early Census taking; the enumerator listed families in the order visited, i.e., neighbors are shown in numerical order. Thus it is generally easy to determine who the ancestor's neighbors were. Since the original reports were not in alphabetical order, it is most helpful if someone has already made an index for the area/time in question. This has been done, generally, through 1860.
Back to the supposed marriage of the Thornton girls, Paulin and Katherine T.. Listed immediately next to James Thornton in the 1840 Census was "Wm Huber". I am not at all sure I have transposed the spelling as the enumerator intended. The writing is vague. (It might have been this name was Hibler). Wm. Huber's household is listed as:
Male born 1800-1810
Male born 1830-1835
(2) Males born 1835-1840
Female born 1770-1780
Female born 1810-1820
Keeping all the above in mind, including the way the Census was conducted, and moving to the 1850 Census, we gather more information, this time including the names of wives and children, profession, value of real estate, place of birth by State and whether an individual was married within the year. Families were listed by "Dwelling house number in order of visitation" and "Families numbered in order of visitation". The 1850 Census page of interest is for Crawford Township in Osage County in Missouri and is dated 11 September 1850. Entries are as follows:
315 315 Moses Lewis 34 M Farmer 300 Ky.
Susan 22 F Mo.
Melissa 2 F Mo.
*Feilding P. Hibler 21 M Farmer Mo.
*Kitrna J. Hibler 16 F Mo.
Feliso G. Hibler 17 M Laborer Mo.
Charlotte Hibler 46 F
316 316 (A farmer named Davis from Virginia of no apparent interest).
317 317 James Thornton 48 M Farmer 600 Va.
Martha 38 F Va.
Joseph 14 M Mo.
James 12 M Mo.
William 8 M Mo.
Presly 7 M Mo.
I am convinced the names asterisked in family 315 are one of the boys from the 1840 "Huber" entry- which should have been Hibler and one of the girls from the 1840 Thornton entry. The Marriage Book and the close location of the two families gives (to me) sufficient evidence to make this assumption. As far as the other Thornton girls are concerned, I have no further information. There is other vague information linking Hiblers and Thorntons in Missouri, but I am not convinced it is applicable as yet.
On 20 January 1857, James Thornton purchased from one William Pinkston and wife a 1/9 interest in 176.5 acres in Jefferson Township in Osage County. He paid $87.50 for this interest, i.e., 50T per acre. On 22 January 1857, he purchased a 2/9 interest in the same land from one George Wilson and wife for the same property. He also bought a 1/9 interest from Cameried (?) Riley and her husband, John C. Riley. The Wilsons, Pinkstons, and Rileys were heirs of one Ruben Wilson. All did not go well with these purchases. On 1 1 May 1860, the Circuit Court of Osage issued an order that the land for which James had bought 4/9 rights to be sold at public auction. This was called an "Action of Petition for Partition" where James Thornton was plaintiff and a number of people named Wilson were defendants. On 7 November 1860, the public auction was held and James Thornton made the high bid of $600.
He finally got a deed to the whole property from a Sheriff on 13 May 1863. (Part of the delay was due to the fact the previous Sheriff who conducted the sale had died shortly thereafter). I speculate that after James bought the 4/9 interest from the Rileys, Pinkstons, and George Wilson the other heirs of Ruben Wilson did not want to sell their interest and the matter ended up in Court. I do not know how the property was disposed of when the Thorntons left Missouri in the late 1860s.
The 1860 Census for Jefferson Township is dated 7 July 1860. It has very nearly the same headings as the 1850 report:
563 527 James Thornton 58 M Farmer 800/6460 Virginia
Martha Thornton 47 F do
James Thornton 20 M Farmer Missouri
William Thornton 18 M do do
Preston Thornton 17 M do do
Mary G. Thornton 16 M do
William Hiben 16 M Farmer do
Martha Hiben 12 F do
James Hiben 9 M do
Ruben White 24 M Farm Laborer do
This Census report is most interesting to me. Note the following:
A. Joseph Thornton does not appear. He would have been about 25 years old. There is a Joseph Thornton in the 1860 Census report of Hunt County, Texas in which he is shown as being some 26 years old and born in Missouri. His occupation in Texas was as laborer and he was living in the house of one Wm. Lynch. It is not certain this Joseph was the son of James Thornton. Joseph Thornton did not show as a head of household in Osage County in 1860.
B. Note the addition of Mary G. to the Thornton household. She was the wife of William.
Marriage Book "A" of Osage County shows the following:
The M. G. following "E. Connor" no doubt stands for "Minister of the Gospel". The "P" might have been for Primitive (Baptist Church). William Lamkin is the same one who recorded the deeds of land purchased by James in 1857.
We have the good fortune of knowing quite a bit about Mary Jane, including having her photo (see Photo Section). There is also information on the Vaughan family here. She lived until 1914. Surely the "Mary G." in the 1860 Census should have been "Mary J." and she and William were living in the household of James.
C. The column heading for real estate in the 1850 and 1860 Census reports are slightly different. The former calls for value of real estate owned and the latter calls for this information and the value of the personal estate. The personal estate of $6460 was very considerable in 1860 and probably was based on the value of slaves. Slaves in the household were not listed in 1850 or 1860.
D. This Census report is the last information uncovered to date on "Presly" or "Preston". I am convinced his name should have been listed as "Presley", which name has been associated with the Thorntons in Virginia since 1710. There is some indication he may have been lost in the Civil War. Joseph and William each named one of their sons Presley. It is likely James' and martha's son Presley was the baby of the family and the favorite of all.
Another entry in the 1860 Census for Osage County was in the Crawford Township (where James was enumerated in 1850).
908 857 Samuel Hilber 41 M Farmer 1800/200 Missouri
R Wm Hilber 16 M Missouri
Martha Hilber 13 F do
James Thornton 18M Farm labor /350 do
Mary 17 F do
The same person was the enumerator for both Crawford Township and Jefferson Township. Comparing this entry with that of James Thornton in Jefferson Township shows:
A. One of the variants of the name Hilber, Hiben or Hibler must be in error. I opt for Hibler since this name showed in 1850, and also there is evidence to show the "Huber" in 1840 should have been Hibler.
B. Two of the Hilbers shown in the listing for Crawford are very nearly the same as shown in the James Thornton entry in Jefferson with only minor differences in age. Thus I think these particular Hilbers (Hibens) were listed twice, even though they were counted by the same enumerator. One could speculate that Samuel Hilber had bought the farm in Crawford Township and/or the Hilber children were working on both farms. Perhaps the farms of Hilber and Thornton were adjoining and used common houses. I just do not know.
C. Not as easily explained away is the presence of James Thornton, age 18 (born 1842) and Mary Thornton under the Samuel Hilber listing. Marriage Book "A" mentioned before also has these entries:
· James T. Thornton married Susan Holloway on 24 November 1858
· James T. Thornton married Mary E. Ryan on 10 April 1861
Now follow carefully. The 1850 Census shows:
James Thornton, age 12, born in 1838. The 1860 Census shows him as age 20 born in 1840. An 1880 Census in Rains County, Texas shows James Thornton age 40 born in 1840, born in Missouri with a wife named Mary E. of age 41, born in Tennessee. So the date for these two reports do not match for age and State of wife's birth. While admittedly forcing a point to the edge of credibility, I conclude the James Thornton shown under the Hilber household might very well have been William Thornton (age and circumstances match) and that James T. had married Susan in 1858 and she died prior to 1861. Otherwise, the James Thornton in the Hilber household is probably not of our line.
Another digression at this point. The surname Thornton was quite common in colonial and post revolutionary Virginia. It was also common in Missouri during the period of interest. For example, there was a group of Thorntons who originated in Virginia, moved to North Carolina, to Kentucky and then to Callaway County, Missouri. They had a son named James. Callaway County adjoins Osage County. You can imagine the excitement I had on discovering this in the early stages of my research. This was followed by further checking and a delightful correspondence with a Miss Artie Thornton, a maiden lady of 92 who had published various articles on Thorntons in Missouri. It did turn out to be a different line than ours, but the coincidence was remarkable. A bit closer home, our trusty Marriage Book 'A" also had entries showing:
· John H. Derricks married Sarah E. Thornton on 2 November 1858
I have no idea what line Sarah Thornton was from. Gravestones in Osage County include the following entries:
· Frances Cittie Clarke Thornton 2 October 1809 - 10 May 1860, Wife of Samuel
· Samuel Yardley Thornton 2 August 1807 - 12 April 1877, Husband of Frances
There is documentary evidence a S.Y. Thornton bought land in Osage County in 1857. In the same cemetery as mentioned above there is a marker for:
· James William Thornton 30 March 1871 - 17 September 1872 Grandson of Samuel and Frances
This shows descent of a son from Samuel, which son might very well have been named James. An on it goes. I only include these entries to show that confusion in searches such as this is always present and that is why I am trying to include as much detail as possible to support speculations when they are called out.
The Civil War was from 1861 - 1865. Missouri was certainly deeply involved. I am presently researching information which may show whether our line of Thorntons was involved and if so, on which side they participated. Since James and Martha owned slaves and were from southern Virginia, it would seem they would favor the Southern Cause, but who knows.
Osage County marriage Book "B" covers the period 1862 - 1871 and shows the following unions:
· William Thornton married Ann H. Lorenze on 26 January 1863
· Joseph E. Thornton married Mary Mermahon on 8 October 1865
· John H. Diercks married Adelia H. Thornton on 25 May 1865
Considering these in order: I have no idea who this particular William Thornton was. Noting Joseph E. Thornton marrying Mary M. in 1865 could lead to some fanciful speculation. As mentioned earlier, there was a Joseph Thornton in Texas in 1860. Could he have returned to Missouri from Texas because of the War? This is entirely possible. He certainly was in Missouri after the War. And as an aside, note the John H. Diercks and Adelia Thornton marriage. He is surely the one who married Sarah E. Thornton in 1858 as shown in Marriage Book "A".
Sarah must have died. In these days and earlier, it was not all uncommon to marry the brother/sister of a deceased spouse. This happened often among the early Virginia Thorntons. I have nothing more of Adelia.
The Thorntons were active in the Masonic Lodge in Linn. That tradition was carried down to at least C.C. Thornton, who was a great-grandson of James and Martha. Linn Masonic Lodge #66 was chartered in 1856. For some reason it was terminated about 30-40 years later, but had a successor Lodge #326 AF & AM established in 1898. The Secretary of the present Lodge and the Secretary of the Grand Lodge of Missouri have been most helpful in providing information. No Thorntons appeared on the Linn Lodge returns for 1856, 1857 and 1864. But for the year ended 30 April 1866, three Thorntons showed as follows:
· J.E. Thornton was listed as Junior Deacon, an officer of the Lodge. This indicates he probably joined the Lodge prior to 1866.
· Wm L. Thornton received both lst (entered apprentice) and 2nd (fellowcraft) degrees during the year.
· Jas. T. Thornton received lst, 2nd and 3rd (Master Mason) degrees during the year.
In the Lodge return dated 1 September 1867 only i.E. Thornton was listed as a member. No Thorntons were listed in the return for 1870 (Note: returns for all years are not available). Grand Lodge files show Wm. L. Thornton as raised (made a Master Mason) in 1866 and demitted (placed in an inactive status) on 22 September 1867. Jas. Thornton was raised in 1866 and demitted 22 September 1866 (the last date seems suspicious and may be in error). Jos. Thornton was raised in 1865 and demitted on 24 July 1869. Important in the sequence of this narrative is the presumption William L. and James T. were active in 1866 but not thereafter. Joseph E. was active from 1865 until at least 1868 and did not show thereafter. The implication is that Joseph E. remained in Missouri longer than William and James.
This finishes my information to date on the Missouri experience. The Thorntons moved to Texas.
This narrative was inspired by and should be considered a supplement to an article titled "A Little South of Lone Oak" by Ruby Ann Thornton. Her work was dated 15 January 1982. Ruby Ann is a great-great-great-granddaughter of James and Martha Thornton. The article is appended at the end of this narrative and should be read at this time since my remarks following are often keyed to it.
Our line of Thorntons appears on the 1870 Census of Hunt County, Texas. By good fortune and the Soundex code, a researcher located William L. Thornton listed as "Horton". The listing was dated 31 August 1870 for Precinct No. 4, Lone Oak Post Office, and read as follows:
807 197 Thornton, William 30 M W Farmer Missouri
Mary J. 26 F W Housekeeping Missouri
James 10 M W At home Missouri
Ruben 6 M W At home Missouri
Virginia 2 F W At home Texas
George (Presley) 1 M W At home Texas
Martha 58 F W Virginia
Huffman, John 22 M W Farmer Missouri
Thornton, Chas. 14 M B Farm Laborer Missouri
808 199 Casey, Wm (No concern)
809 200 Thornton, Jos. E. 24 M W Farmer Missouri
Mary 23 F W Housekeeping Indiana
Presley 2 M W At home Missouri
Observations on these listings are:
A. Martha, age 58, was of course the mother of William, James (Jr.) and Joseph. Since she was living with William, James (Sr.) must have died between 1860-1870, probably near the end of the time span. The John Huffman in William's household was probably hired help. The Chas. Thornton in the household would have been one of the freed slaves spoken of in the article "A Little South. . . ".
B. The George Thornton, age 1, is shown elsewhere as George Presley Thornton.
C. The value of estate for Jos. E. Thornton was not listed on the Census report. Whether this is an oversight or whether he may have been living in a house on someone else's land is not known.
D. In Joseph's household, Presley is shown as being born in 1868 or 1869 in Missouri. We would guess Joseph and family departed Missouri very shortly afterwards.
E. That James T. Thornton does not show as a near neighbor to William L. and Joseph E. in 1870 is probably due more to Census procedures than to geography.
Rains County, Texas was formed from Hunt County in 1870. This likely occurred shortly after the Census, and explains how our line next shows in the new county.
The following entries are for the Census of 1880 in Rains County, Texas for Precinct No. 4 and were made by the same enumerator. For this Census the three columns to the far right show place of birth of the person listed, his father and his mother:
Thornton, J.E. W M 42 Farmer Mo. Va. Va.
S. W F 28 Wife Ten. Ten. Ten.
W.P. W M 11 Son Mo. Mo. Ten.
E. W M 8 Son Tex Mo. Ten.
N.E. W F 2 Dau Tex Mo. Ten.
Sheffield W F 38 Hired Serv Miss. Miss. Miss.
Tho. W M 11 Labor Texas Miss. Miss.
Observation: Joseph E. was married to "Mary, age 23" in 1870 and to "S., age 28) in 1780. Mary was born in Indiana and S. in Tennessee. Mary must have died and Joseph remarried. W.P., age 11, would be William Presley, and E. would be Edward.
487 561 Clark, Matthew, Nancy, Alta (no concern but…) Thornton, Martha C. W F 66 Boarder Va. Va. Va.
Observation: Martha obviously moved from William's household after 1870 but was still close to the boys.
491 566 Thornton, Wm L. W M 39 Farmer Mo. Va. Va.
M.J. W F 36 Wife Mo. Va. Va
Jas. W M 19 Son Mo. Mo. Mo.
Farm Laborer
R. W M 15 Son Mo. Mo. Mo.
Farm Laborer
E.V. W F 13 Dau Tx. Mo. Mo.
At school
Geo. P. W M 11 Son Tx. Mo. Mo.
At school
M.M. W F 8 Dau Tx. Mo. Mo.
Maggie W F 6 Dau Tx. Mo. Mo.
Coonie W F 4 Dau Tx. Mo. Mo.
Chapman, C.V. W F 17 Adopted Mo. Mo. Mo.
At School
Observation: From other sources we can deduce the following equivalents of initials to names: M.i. = Mary Jane (nee Vaughan), Jas. = James, R = Ruben, E.V. = Evaline Virginia, Geo. P. = George Presley, M.M. = Molly.
Ogle, Joe W M 26 Farmer Ky Ten Ten
E. W F 18 Wife MO MO MO
Ad. W M 2 Son Tex Ky MO
Ryan, Bonny W M 73 Farmer Ten Va Va
Issac W M 43 Son Farmer Ten Ten Va
George W M 20 Son Farmer Ky Ten Va
553 651 Thornton, J.T. W M 40 Farmer MO Va Va
M.E. W F 41 Wife Ten Ten Va
J.B. W M 16 Son MO MO Ten
S.L. W F 14 Dau MO MO Ten
J.P. W M 12 Son Tx MO Ten
W.F. W M 10 Son Tx MO Ten
T.J. W M 8 Son Tx MO Ten
M.J. W F 5 Dau Tx MO Ten
R.J. W F 1 Dau Tx MO Ten
Observations: From other sources we deduce J.T. = James T., M.E. = Mary E. (nee Ryan). One daughter married a "Mr. Ogle". Note the Ogle house 552 was next door. Also family 650, living in the same house (553) as James and Mary E., included Mary E.'s father and two brothers. They were next door neighbors in Missouri in 1860 and likely came to Texas with the Thorntons.
In 1880, William L. filed an earmark and brand as follows:
After 1880 the family was expanding exponentially, so at this point I will concern myself principally with William Lafayette and his descendants. In her paper "A Little South . . .", Ruby Ann spoke of William L. and Mary Jane's children. My f indings are the same as hers except I think a daughter was "Evaline Virginia" rather than "Evaline K.",, a most minor point. Also, I did not f ind any references to Burkes as a child of William L's, but I do not have access to all of Ruby Ann's resources. it turns out one of the Thornton boys and two Thornton girls married one Boarman girl and two Boarman boys. The Boarmans were children of C.C. and Sarah Huldah (Morris) Boarman, who also lived in Lone Oak. The unions were as follows: John Ruben married Jane Caroline Boarman; Joseph M. Boarman married Maggie Louise; and Bob Boarman married Evaline Virginia. Evaline Virginia, known popularly as "Aunt Babe"., later married a Mr. McMortle after Bob Boarman died in 1911. Aunt Babe died at age 84. John Ruben and Jane Caroline ("Carrie") were married at Lone Oak, Texas on 19 August 1893.
Since this story is soon to hitch up the team and dust out of Lone Oak, let me say here the following markers are in the Hooker Ridge Cemetery at Lone Oak:
Joseph E. (son of James and Martha)
Sally (2nd wife of Joseph E.)
Press (Presley, son of Joesph E.)
M.E. (Mary E., 2nd wife of James T.)
Thomas I. (sone of James T.)
W.L. (son of James and Martha)
M.J. (wife of W.L.)
J.M. (son of W.L.)
James T. (son of James and Martha)
The information in parenthesis is my own observation based on headstone markings.
The family Bible of J.R. and Carrie Thornton has entries made in the same precise handwriting for events from the marriage up to 1901. It is obvious the family Bible was started at the later date. It shows J.R. and Carrie were married by the Rev. J.M. Bowman. I have thought for years this might be the J.M. Boarman who married Maggie Louise, but now I do not think this is so. I have seen a later reference to a family named Bowman in Lone Oak, so a family tale is in jeopardy. In the Bible there is an entry which states "J.R. Thornton and family moved to Liberty Co. October 15=1897. Moved to Liberty August 10=1903." The last, of course, meant they moved into the town of Liberty (County Seat). Many times Carrie told me that when she and J.R. first came to the area they first lived near Hardin, a small town in Liberty County about 10 miles from the town of Liberty itself. The family Bible, now in the possession of Mary Clare Thornton, shows different entries concerning both "J.R." and "R. J. 11 Thornton. Locally he was addressed as "Rube". obituary columns and Resolutions of Respect from the Masonic Lodge of Liberty list him as J.R. Thornton or John Ruben Thornton. His headstone in the Liberty City cemetery is inscribed J.R. Thornton, so his given names are well established.
Rube and Carrie's first child was James Hubert, born in Lone Oak on 13 November 1895. Next was Huldah Jane born 4 August 1897 in Lone Oak. It must have been immediately after Huldah's birth that the trip was made to Liberty County by covered wagon. This would have been a trip of about 250 miles. Just think about it, with an infant! While living near Hardin, two more children were born, Jewell- Dale on 26 April 1899 and Ruby Mae on 3 December 1901. While at Hardin, Rube operated a mule team (or teams). He was involved in helping build a railroad right-of -way. Teams of mules, perhaps up to 8, would drag a huge iron scoop called a "slip" over the ground to level the path for the railroad bed, in much the same manner as a bulldozer does today. Rube and Carrie moved from Hardin to Liberty in 1903, as mentioned earlier. Rube bought what amounted to one half of a city block. (Most of the property remains in family hands to this date). The last child born was C.C. on 4 July 1904. He was always known as "Son". One of the family anecdotes has involved Son's given name. When questioned as to the names associated with the initials C.C., he steadfastly maintained they had no relationship to given names but were simply initials. This was not accepted completely by all members of the family. Some say that "Christopher Colombus" was originally entered in the Bible, but was later changed to read "C.C." (by person(s) unknown). I have examined this entry myself in the Bible. My conclusions are indeterminate. It is known that Son's maternal grandfather was C.C. Boarman. Son had an uncle named Christopher Colombus. Legend has it he told a niece "one of his sisters had put the name Christopher Colombus in the Bible to embarrass him". He is listed as C.C. now--but still there is that smudge on the page under the initials . . . . In any event when, on numerous occasions, all these facts were laid before him, he would only smile in the way we remember so well and not engage in further discussions.
When Rube and Carrie moved to Liberty, they built a large house which is standing today. For a livelihood, he still operated mule teams and worked also as a butcher and a peace officer (sort of a deputy town marshall). He died 25 November 1909 of "locked bowels" in Liberty. This left Carrie in a difficult position. She had 5 children ranging in ages from 5 to 14. With the house and property she was not destitute, but needed an income to live on. She started taking in boarders, and later on, roomers. She recalled memories to me of working with her children in the rice fields which used to be so prevalent in the area. In any event, it was a hard time f or a young widow. She did persevere and all the children were raised properly, well educated and suffered no grievous want. Another family story recalls when the oil boom was in effect around Liberty around the 1920s, one of her neighbors and great friends of the family was a Mr. E.W. Pickett. Mr. Pickett was doing very well indeed participating in this boom. Carrie is said to have told him "Mr. E.W., I am just a poor widow woman with 5 children to raise and you must tell me how I can get in on this oil boom to make some money." Mr. E.W. was impressed and did give her some advice which added a little to her income - perhaps only a few dollars a week - which was certainly helpful. Carrie died in Liberty on 28 January 1960. She had been very active in the Methodist Church. I am told that people came from far and near for her funeral, which was one of the largest such gatherings the town had witnessed. She was a good woman and well beloved by all.
The eldest son James Hubert ("Hub") married Flossie Bender on 29 September 1922. He worked in oil exploration and while so engaged, died in Pecos, Texas in 1927. He is buried in Jefferson, Texas. Hub and Flossie had a son, Hubert Bender, born 4 August 1923.
Huldah was involved in the later stages of the Texas oil boom. She specialized in buying leases on properties which were later produced by the big operators. She would then receive royalties on oil and gas produced. She married Joe Gans, but the marriage was terminated prior to her death on 18 April 1941. She is buried in Liberty. She and Joe Gans had no children.
Jewel married Norman Allison on 14 June 1914. Until their death they lived next door to the family home of Rube and Carrie. Norman worked locally as a barber and later operated a service station. They had 3 children; Ruben Anthony, born 31 January 1920, William Anthony, born 28 April 1924, and Mary Jane, born 16 April 1930. Jewel died on 26 August 1964 and is buried at Liberty.
Ruby married Norman Fox on 21 March 1920. They met while he was working for the Arkansas Fuel Oil Co. in Hull, Texas, and she was teaching school in the same town. They later moved to San Antonio, Texas, where their son Raymond Donald was born on'8 December 1924. His work next took him to El Dorado, Arkansas, where their son Richard Thornton was born on 28 September 1927. In 1928, the couple moved to Tullos, Louisiana where they remained until Ruby died in 1947. She is buried in Liberty.
Son, the youngest, worked in the oil exploration business in various parts of Texas; at a shipyard during WWII and later owned and operated a cattle ranch near Ames, Texas, about 10 miles from Liberty. He married Mary Clare on 15 May 1936. They had one daughter, Peggy Clare, born on 22 February 1937. Throughout his life Son was devoted to his mother, Carrie, as were all of her children. For the last half of his life, Son and Mary lived next door to Carrie (on the other side of her house from Jewel).
Son died in 1987 and is buried in Liberty.
Here I am going to stop this narrative and advise, J.R. and Carrie's grandchildren and descendants to -expand on and complete their own lines. And, as I have exhorted them before, the time to do this is now before memories dim and records are lost. I would hope they will be generous with their time and put down all pertinent data. It would also help to separate fact from fiction -- but, when in doubt write it out, anyway, to add more twigs on the Branches to Westward.